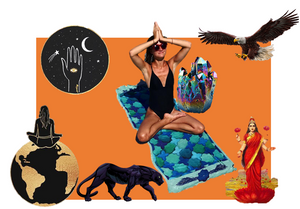 Who is your companion?
Who is the one ascended master, that supports you in your special given situation?
In our session you describe your personal issue you need support for from the universe. There is always an ascended master by your side guiding and supporting you. Describe your situation, your challenge, you want to focus on.  
I channel the energies from the Ascended Masters and let you know what comes through - who shows up: who is your Ascended Master giving you support right now?
I will share your individual energetic guideline recommendations  for your specific situation.
_______________________________________
Wer ist Dein Begleiter?
In herausfordernden Situationen können wir Unterstützung aus dem Universum erhalten. Für jede Situation oder Aufgabe in Deinem Leben gibt es Meister, Wesen und Helfer, die Dich unterstützen können und es Dir leichter machen können aus dieser Situation gestärkt hervor zu gehen.  
Beschreibe Deine aktuelle Herausforderung, für die Du um Unterstützung bittest - ich beginne dann zu channeln und teile Dir mit welcher Ascended Master sich zeigt - ich verbinde Euch energetisch und beschreibe ihn/ sie und die entsprechende Energie / das Thema, um das es geht
Ich erkläre Dir zuerst die allgemeine Beschreibung der Meister-Energie sowie im Anschluss eine Guideline "von oben" persönlich für Dich: wie Du gestärkt durch die Situation gehen kannst und welche Hinweise für Dich bereitstehen als Unterstützung und helfende Hand der Meister.