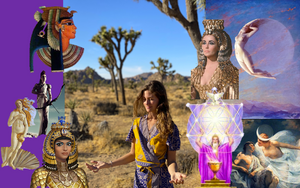 Course held in English.
INDEPENDENT WOMAN PT. 1
A pre-recorded course to free yourself from outdated roles and to create a stronger and better version of yourself to live your highest potential in love! 
YOU. ARE. WHOLE. 
For empowered women to create a conscious future in (self)love and to heal in order to become whole.
A course for both: single women and women in relationships, who want to level up and transform. Love yourself first to love others! Transform your life in love! How to? This is what we are learning in this course - to stay in the frequency of pure, unconditional love. Always - no matter what.
Staying high, staying in love. Self Love - Love for E.V.E.R.Y.T.H.I.N.G. Also the pain - going deep, rising high, growing strong, leveling up.
A course to heal.
A course to open our hearts for love.
A course to grow strong.
A course to push the reset-button and start anew.
A course to rise like a phoenix.
A course for Queen Goddesses to shine brighter than ever before.
Are you ready?
One. Love.
You get full access to the course, that you will keep forever.
Different Modules, Self Coaching Tools and Methods to level up - stepping into your feminine divine power.
L <3