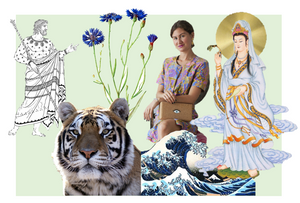 Monthly guided meditations for 1 year - 12 audio files
- English or German -
For only 11,11 € per month you get your energetic support for 1 year. Monthly I will send you an audio file with a guided meditation, that I channeled especially for the energy of each month. Each meditation takes 20-40 minutes. The guided meditations are recommended to listen early morning when awaking to create your morning ritual or when going to bed. It is no problem when you fall asleep while listening. Your subconsciousness is still listening and working for you. The meditations can also be used as hypnoses. So there is nothing to do wrong. Just relax and enjoy this wellness for your soul. I integrated some lightful energy work, so that the meditations are working deeper.
You will have after 1 year 12 audio files, that are yours and that you will keep forever. Make sure to not forward these files - this is not recommended energy balancing wise. I trust you. I hold you. I love you.
Please make sure to choose your language (available in German or English) before ordering.
_______________________________________________________________________________________
Monatliche geführte Meditationen für 1 Jahr lang - 12 Audio Dateien

Für nur 11,11 € im Monat erhälst Du Deinen energetischen Support in Form von Meditationen und integrierter Energiearbeit. Jede Meditation dauert 20-30 Minuten.
Die Meditationen bieten Dir Unterstützung, um direkt so in den Tag zu starten und Dir  Dein kraftvolles Morning Ritual zu kreieren - oder aber auch zum Einschlafen abends, damit Dein Unterbewusstsein nachts weiterarbeiten kann. Die Meditationen können auch als Hypnose genutzt werden.  Es sind lichtvolle, positive Meditationen, die empowern und Dich in die Ruhe und Kraft kommen lassen. Es gibt nichts, das du falsch machen könntest. Einfach laufen lassen, zuhören und entspannen. Ich channel die Meditationen und sie sind jedes Mal zu der Zeit und dem Zeitgeschehen passend. Ich integriere Energiearbeit, sodass die Meditationen noch tiefer  und intensiver wirken können.
Nach einem Jahr hast Du 12 Audiodateien gesammelt, die energetisch aufeinander aufbauen und die Dir gehören und die Du Dein Leben lang für immer nutzen kannst.
Es wird empfohlen die Dateien nicht weiterzuleiten, da es hier um die Energien geht, die Dich unterstützen - dies wäre energetisch kontraproduktiv. Gemeinsames Anhören ist dafür aber umso wundervoller. Ich vertraue Dir, ich danke Dir, ich halte Dich. Love you, Engel! Deine Leonie