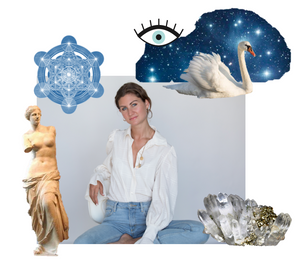 In our today´s hectic world, most of us are not connected with ourselves anymore and don´t know what makes their soul happy. Leonie Lepenos  guides people on their individual journey to their inner selves and lead these souls to breakthrough. She coaches people to connect with their higher self to find the right individual answers for their lifes – because everyone of us has it already within. She takes a holistic, compassionate and empowering approach to give support and hold a sacred space for self-healing.
Being more connected, this life truly can be a wonder-ful experience. Leonie has led herself through some of the most challenging times of her life with her developed methodology and it's an honor for her to pass that on.
Pure direct relaxation and leveling up! You feel directly brighter and lighter. The best support to reset and recharge your batteries!
Re-connecting with the universe and higher spheres. She is channeling and working as a medium. Let your inner light shine bright in this world by discovering your inner joy and (self) love. You will find your inner balance, feel more vital, empowered  and connected with your soul to fulfill your individual mission in this life! Decide to rise high. Living the High Vibe Life.
What´s happening exactly during the 1:1
1. Energy Cleansing
I clear your body- energysystem, your chakras and you can let go of anything that does not serve you any longer. Surrendering toxic, lower vibrations. You feel already lighter, brighter and more free.
2. Energy Transfer
When in the right frequency, I start the energy healing transfer. I work as a channel - i build a protection around me and you, so that only the direct lightful, supportive energies will flow into your energy system and your life. I touch your shoulders, hips, knees, feet and your head for transferring the source energy with the touch of oneness.
3. Soul Reading
I channel messages from your soul coming from your subconsciousness to your consciousness showing you the way - blocks, hidden traumata can be solved, released, transformed and healed - a powerful energy offered by the universe and your higher self itself. Also this is the powerful part where  visions can come through from Ascended Masters, Angels and other light beings. 
4. Analysis 
When still being in between the worlds, I translate the messages into your language and inform you about the info I received from higher realms. 
5. Coaching
We talk in detail about the messages, that came through from the universe and what they mean for situations, relationships and pattern in your life. I support and guide you developing a plan and taking specific action to work on these blocks to support the energetic healing happening inside of you already. I take an empowering approach to inspire you integrating rituals in your daily routine to create your high life on the next level.
Wellness and healing for your soul. You feel brighter, lighter and connected with the source - a feeling most of my clients never ever have experienced before. Every cell in your body is shining in its unique light and you deeply understand your purpose, why being here on this planet - healing on all levels.
After your purchase I get back to you within 24h to make an appointment with you.
________________________

In unserer heutigen, sehr schnelllebigen Gesellschaft haben viele von uns die Verbindung zu sich selbst, zu ihrer Seele verloren - dies kann sich zeigen durch Unzufriedenheit, das Gefühl nicht "voran" zu kommen, aber auch ständigem Stress bis hin zu Krankheiten. Manche fragen sich, wieso sie eigentlich hier auf dieser Erde sind, was ihre Aufgabe hier ist oder wieso Dinge geschehen, so wie sie geschehen. Was ist eigentlich der Sinn des Lebens?
Ich begleite Menschen auf ihrem ganz persönlichen Weg und unterstütze dabei, die richtigen Antworten in sich selbst zu finden - mit Gesprächen, geführten Meditationen, Energiearbeit und Coaching-Methoden. Mein Ansatz ist holistisch, ich arbeite empathisch und ermutigend – mit Leichtigkeit. Unterstützung erhalte ich dankend aus der universellen Welt, die ich stets zum höchsten Besten einsetze. 
Ablauf:
1. Energy Cleansing

Bevor wir mit dem Reading beginnen, reinige ich Deine Aura und Dein Energie-System. Altes, Angestautes sowie niedere Energien können von Dir weichen und all das, was Dir nicht mehr dient, kannst Du hinter Dir lassen und endlich frei werden. Du fühlst Dich geklärt, freier und leichter. 

2. Energy Transfer

Wenn wir auf der richtigen Energie-Frequenz eingeschwungen sind, beginne ich mit der Energy Healing Session. Ich lese Deine Energiefelder und Chakren in Deinem Körper, öffne mich als Channel und empfange Botschaften und lasse dann direkt die Energieübertragung vom Universum durch mich hindurchfließen. Deine Schwingung wird erhöht. Du fühlst Dich durchflutet von Licht und neuer Energie. Ich berühre Dich über Energiepunkte an Schultern, Hüften, Knien, Füßen, Kopf.

3. Soul Reading 

Hinweise und innere Botschaften können Dir jetzt selbst bewusst werden. All dies geschieht rein, pur, lichtvoll - nur mit vorherigem Einverständnis Deiner Seele. 

4. Analyse
Anschließend besprechen wir, was ich wahrnehmen durfte - Schritt für Schritt. Wir gehen dabei die verschiedenen Körperstellen durch und was für Symbole / Farbstrahlen / energetische Blockaden sich gezeigt haben und welche Lösungsansätze durchkamen. 

5. Coaching

Nach der Analyse schauen wir gemeinsam, was was dies für Dich und Dein Leben bedeuten kann, wie ich Dich dabei energetisch unterstützen darf. Wir gehen konkret Deine persönlichen Themen an und ich zeige Dir Tools und Methoden, die Du in Deinem Alltag umsetzen kannst.

Du wirst aufgeladen mit frischer Energie und Heilungsprozesse können aktiviert werden. Unterstützung erhalte ich dankend aus der universellen Welt, die ich stets zum höchsten Besten einsetze. Die Session ist intensive Transformations-Arbeit. 


Nach Deiner Buchung, trete ich innerhalb der nächsten 24h mit Dir in Kontakt, um einen gemeinsamen Termin zu vereinbaren.